Home
Up
Search
Multi-County DVDs
Southeast Missouri
Ozark Region
Arkansas Counties
Illinois Counties
Indiana Counties
Iowa Counties
Kansas Counties
Kentucky Counties
Louisiana Parishes
Massachusetts Vital Records
North Carolina Counties
Ohio Counties
Pennsylvania Counties
Tennessee Counties
Texas Counties
Historic Map Reprints
Plat Map Books
Census Records
State County Maps
New Titles
Coming Soon
Questions Answers
Customer Quotes
Wholesale
Conferences
Missouri Journey
Iris Median
Contact Us
Genealogy History News
Special Offers
County History Books

Additional Free Genealogy and Map Resources
Jackson County, Missouri 1904 Historical Map Reprint Roads & Railroads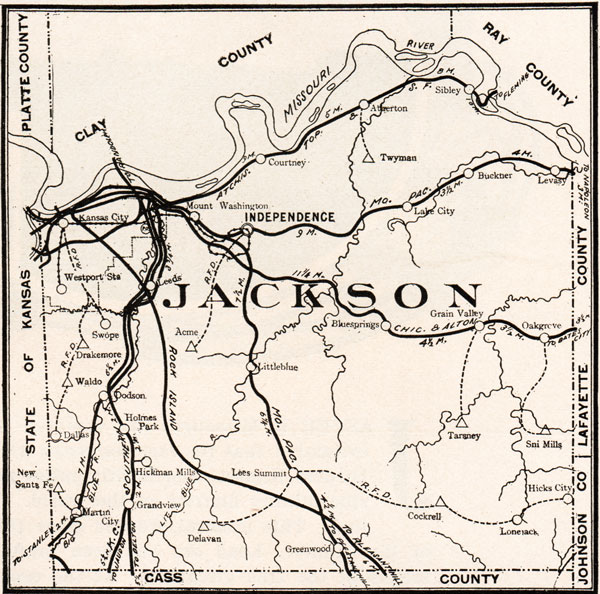 This historic 1904 map reprint shows the county boundaries, roadways, railroads and settlements within Jackson County, Missouri as of 1904. This includes the locations of a number of small settlements, some of which no longer exist. A total 35 different settlements including all of the following: Acme * Atherton * Bluesprings (Blue Springs) * Buckner * Cockrell * Courtney * Dallas * Delavan * Dodson * Drakemore * Grain Valley * Grandview * Greenwood * Hickman Mills * Hicks City * Holmes Park * Independence * Kansas City * Lake City * Leeds * Lees Summit * Levasy * Littleblue (Little Blue) * Lonejack (Lone Jack) * Martin City * Mount Washington * New Santa Fe * Oakgrove (Oak Grove) * Sibley * Sni Mills * Swope * Tarsney * Twyman * Waldo * Westport Station *
This is from an original map that was published within the 1904 The State of Missouri published. This map is reproduced as a digital ink jet print, measuring approximately 8.0 x 7.9" centered on 8.5 x 11" 24 lb paperstock. Our 8.5 x 11" maps are inserted into protective plastic sleeves and mailed flat in a sturdy, rigid mailer. (Note: If your order includes any of our other 12 x 18" or larger maps, this map will be included with the others in a sturdy shipping tube.)
(The lower map shows a sample of the detail on this map)

Speedy Delivery!
We will ship your order within 24 hours of receiving your payment (on first business day if received on weekend or holiday.) We will securely package and ship your order by First Class Mail and you will likely receive in just 2-3 days after ordering! [Shipping can be delayed at times due to weather, holidays, or travel schedules. View

our

current shipping schedule here: Current Shipping Schedule]
How to order:
This map reprint is available for $4.95 plus $1.95 shipping for a total of $6.90.

If you wish to pay by credit card, please use the shopping cart below (checkout goes to a secure server.) Credit card orders may also be placed by phone to Hearthstone Legacy Publications from 9 AM to 11 PM (Central Time Zone) Monday thru Saturday at 816-204-7593. If you wish to pay by check or money order, mail $6.90 ($4.95 for map plus $1.95 shipping) to:
Hearthstone Legacy Publications
PO Box 466
Branson, MO 65615
Since we offer many different maps and county history and genealogy CDs, please be sure to specify that you wish to order the Jackson County, Missouri 1904 Historic Map Reprint Roads & Railroads. If ordering more than one map, the shipping cost is $1.95 for the first map plus only 25 cents shipping for each additional map purchased.
View a complete list of Historic Map reprints available: Historic Map Reprints
View a complete list of Missouri Historic Map reprints available: Historic Missouri Map Reprints